H
et theaterconcert van 4 oktober j.l. was een groot succes.
Bekijk hier de foto's.
Een stuk uit het AD van maandag 28 september 2015: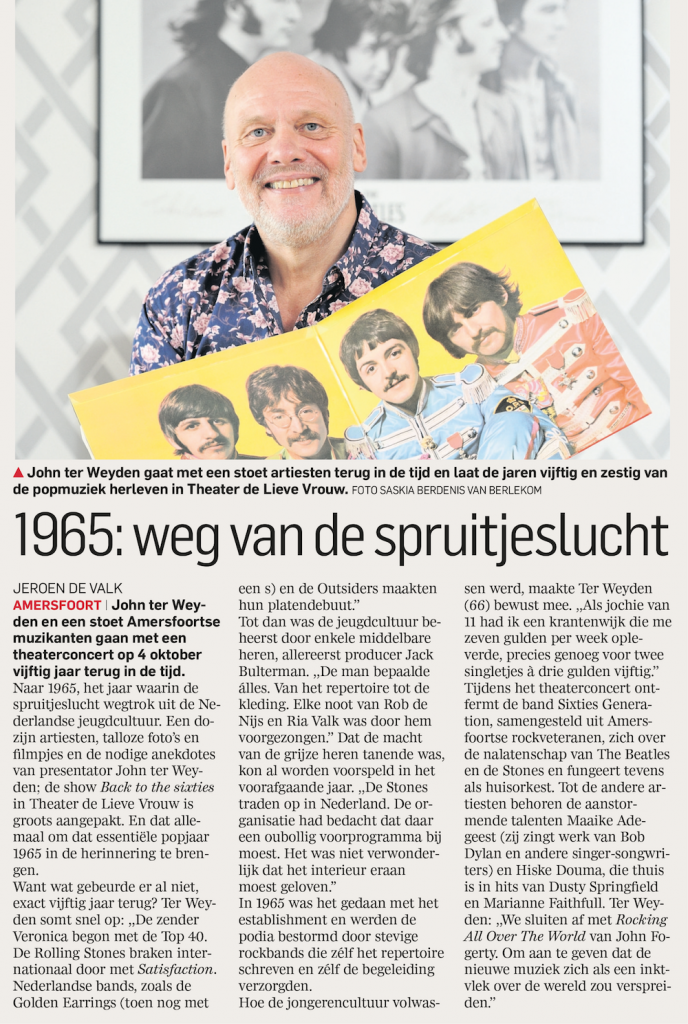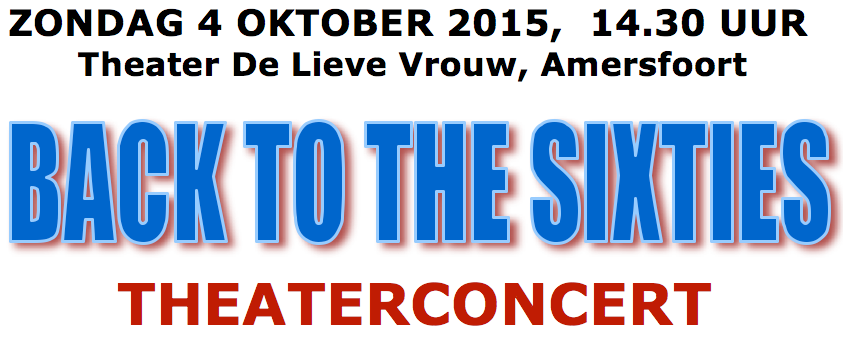 ZONDAG 4 OKTOBER 2015, 14.30 UUR
Theater De Lieve Vrouw, Amersfoort
THEATERCONCERT
Exact 50 jaar geleden, in 1965, beleefden de fantastische swinging sixties
een hoogtepunt. Zo braken The Rolling Stones definitief door met hun
legendarische single Satisfaction, schitterden The Beatles in hun 2e speelfilm
Help, zond Radio Veronica voor de eerste maal de Top 40 uit en brachten
Nederlandse beatgroepen als The Golden Earrings, The Motions en The
Outsiders hun eerste singles uit.
In deze Amersfoortse theaterproductie wordt het verhaal van de muzikale
jaren 60 verteld met anekdotes, foto's en met ruim 25 grote sixties-hits
welke worden gezongen en gespeeld door de band Sixties Generation,
Maaike Adegeest, Hiske Douma, Ciska & Sonja + Ronen John ter Weyden.
Nummers van o.a. The Beatles, The Rolling Stones, Elvis Presley, The Sandy
Coast, Cliff Richard, Chuck Berry, , Marianne Faithfull, Bob Dylan, The Byrds,
Simon & Garfunkel, Trini Lopez, Neil Diamond en Rob de Nijs.
Een hoog meezinggehalte want de meeste liedteksten worden geprojecteerd.
Entree € 15,- , kaartverkoop via Theater De Lieve Vrouw
Informatie: info@johnterweyden.nl / 06-36250218